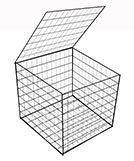 Welded gabion advantages:
1 Welded Gabion mesh is smooth and tidy, uniform mesh, joints firm.
2 Can be excellent permeability and integrity.
3 Welded wire mesh low-cost, easy to install,saving time and labor, and high efficiency.
4 Has a strong resistance to withstand natural weather damage and impacts.
Installation Process:

Welded gabion box type
Dimension:
1x1x1m
2x1x1m
3x1x1m

Dimension:
D: 30cm H:50cm
D: 40cm H:100cm
D: 50cm H:100cm
Welded wire mesh Uses:
1 landscaping, as retaining walls.
2 or high salt pollution in the environment, Gore can be used where welded wire mesh technology.
3 within the welded wire mesh filled with stone or natural cobblestone highway together protection, slope, roadway, bridge and so on.
4 Rock failure protection, bridge protection, protective net.